During this month, you can see some of my artworks in Arco de San Juan Hotel in Murcia city (Spain).

Actually, it was going to be in the month of September, but the artist that had to make an exhibition this month (April) had a baby 2 days before that. So I had to prepare the exhibition in a very short time.

The exhibition is in Murcia, the seventh largest city in Spain. It was founded by the Moors in 825 CE. It's original name was Medina Mursiya. The founder of the city was Abderraman II. It is the statue with which I made the photo (LOL!).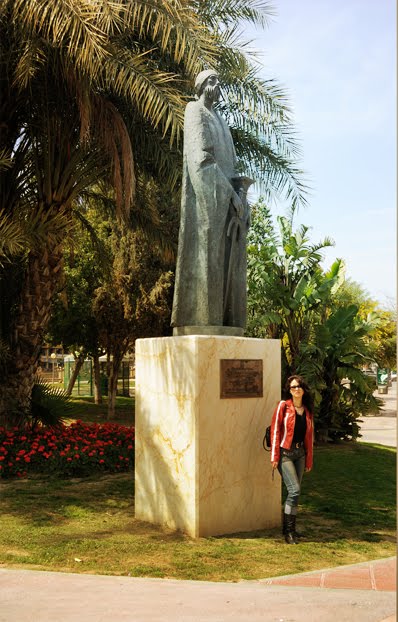 Me and Abderraman II :D


Unfortunately we had very little time and I couldn't make too much photos. But the city has a big quantity of baroque buildings. And the Cathedral is something very impressive. We passed by with our car and couldn't make a photo, but when I can I'll do it to show you.

Murcia is a touristic and services place. It has a traditional agriculture that makes Murcia be called the Europe's orchard.

The food of Murcia is excellent. The quality of their vegetables is well known in all Europe, and their traditional food is very good. If some day you visit Murcia, don't forget to eat the "pastel murciano", it's a bad vice, it's so tasty...

The hotel "Arco de San Juan", where I am making the exhibition, is in the old part of the city, a very touristic area. It's is a four star hotel in the very cultural center of Murcia (Spain), near the Cathedral. The hotel is a XVIII Neoclassical palace that was property of the Count of Floridablanca, and has received numerous architectural acknowledgments and awards.


This is the hotel "Arco de San Juan"


The exhibition will be through May, and is open to the public during the hotel's working hours.

It's always a lovely experience to see the reactions of people with my work. I could talk to some people of Murcia there, and they were very kind to me. It's also very lovely to share this with you.



-Emma Alvarez-


© 2008 by Emma Alvarez. Link to this post without copying the text.

If you liked this post, find more in categories:
News



Some Related Posts:

If you liked this post,

subscribe to Emma Alvarez Site

or

give yourself a gift
Stumble it!
Add me to your del.icio.us network